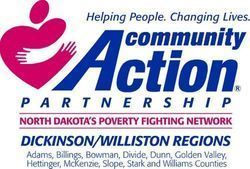 Service Area
Community Action Agency Partnership of Region 1 and 8 is one of seven Community Action Agencies operating in North Dakota. 
CAP Region 1 - Williston serves: Divide, McKenzie, and Williams
CAP Region 8 - Dickinson serves: Adams, Billings, Bowman, Dunn, Golden Valley, Hettinger, Slope, and Stark.
---
Our Mission
Community Action Partnership enhances the quality of life in our communities throughout western North Dakota through education, resources and services.
---
Regions 1 and 8 Programs and Services
Client Services

Self Reliance Case Management - Williston/Dickinson
Self Reliance Case Management consists of a variety of services all designed to improve the standard of living and help promote the self-sufficiency of low-income individuals. These services include:

Money management
Budget Planning
Community resource information
Furthering Education
Goal planning
Career exploration
Resume writing
Training and practice for job interviews
Support and Encouragement

Under the program the case manager works with the individual to identify what will make their lives better and then identify the steps that need to be taken to achieve that major goal. The case manager encourages, provides information, gives guidance; but ultimately it is up to the individual to do the work and actually make the changes.

Representative Payee Case Management - Williston/Dickinson
Managing personal finances is the key within this program. The typical client is a person with a disability who receives a monthly Social Security benefit. It has been determined either by Social Security, the client's family, or the client him/herself that they are incapable of handling their money. Typically a checking and savings account are set up through CAP. Staff works with each client to establish a monthly budget, pay the monthly bills and provide the client with spending money. It is the agency's responsibility to ensure that the basic needs of the clients are met – food, clothing, and shelter.

Senior Companion Program - Williston
The Williston Region is pleased to assist the Senior Companions Program. Volunteers age 60 and older provide assistance and friendship to seniors and other individuals who have difficulty with daily living tasks.

Income Tax Assistance - Williston/Dickinson
This is a free tax preparation service for low-income individuals, individuals with a disability and elderly. This program generally runs from the beginning of February through April 15th. Returns are electronically filed. This is a basic service and cannot deal with complicated returns such as self-employment, business and complicated deductions.

Emergency Services - Williston/Dickinson
CAP provides services to assist individuals or families in emergency situations. Agency staff work closely with community agencies throughout western North Dakota. CAP programs have various income guidelines, restrictions and limited funding. Emergency Services include:

Rental Assistance - Williston/Dickinson
Limited assistance is available for monthly rent on an emergency basis. CAP does not provide permanent and on-going assistance for rent. We may help with one month's back rent to help prevent eviction or a first-month's  rent to assist individuals into a permanent housing. Availability of this service depends on availability of funds.

Rental Security Deposit - Williston/Dickinson
Security Deposits are available to income qualified individuals. Potential renters must not have signed a lease or moved in prior to completing application process with CAP. Security Deposits are limited to one per household per life time. The rent for the property must not exceed 30 percent of the household income. The property must also pass inspection by the agency.

Energy Share (Utilities) - Williston/Dickinson
This program addresses issues with a household's gas/electric bills. Qualified individuals must be qualified for Fuel Assistance under their county Social Service Office. CAP may pay a percentage of the past 90 day electric bill. Fuel Assistance pays for the gas/heating portion of your energy bill.

Budget Counseling - Williston/Dickinson
Management of personal finances is the goal of this program.  Individuals and families have an opportunity to work with staff to identify how they are spending their money and assist them in planning and implementing options to bring them to a balanced monthly budget.  Staff may be able to negotiate with credit card companies in reducing interest rates and monthly payments.

Food Pantry Referrals - Dickinson
CAP authorizes referrals for individuals facing financial crisis to the AMEN Food Pantry in Dickinson. Referrals are limited to once every 30 days. The AMEN Food Pantry is open every Tuesday and Thursday from 1 to 4 p.m.

Senior Commodity Supplemental Food Program - Williston/Dickinson
This program distributes commodity foods to low income elderly households. The commodities are non-perishable food items that include fruits, vegetables, meats, cheese, beans, pasta, etc. Participants receive one box and one bag of food every other month. To qualify individuals must be 60 years of age or older and be income eligible.

Early Head Start- Dickinson 

Early Head Start (ages 0-3, and Expectant Mothers) was founded on the belief that children deserve the opportunity to enter school "ready to learn" and that children's readiness depends on health and physical development, social and emotional development, language development and communication, cognition and general knowledge, and developing approaches to learning. Our programs work with parents to help them set and meet goals related to their own education and financial self sufficiency. We also provide parents with resources that assist them in completing their most important job, that of raising a healthy child who is "ready to learn" when they enter kindergarten.

Head Start- Dickinson 

Community Action Partnership Head Start Program (ages 3-5) provides comprehensive child development services and works with families to prepare their children for kindergarten. The Early Childhood Center was founded on the belief that children deserve the opportunity to enter school "ready to learn" and that children's readiness depends on health and physical development, social and emotional development, language development and communication, cognition and general knowledge, and developing approaches to learning.

Housing

Region I Housing

The Housing Rehabilitation Program was developed to extend the useful life of homes in rural North Dakota. The program accomplishes this by rehabilitating existing homes for low-income individuals/families. The process addresses health and safety items in need of repair.

CAP has been designated as a Community Housing Development Organization (CHDO). Housing needs are identified and funds appropriated by the Department of Housing and Urban Development. The funds are targeted to low-income housing projects such as the development of low-income rental units, rehabilitation of existing rental units or development of single family housing.

Existing projects include:

North View-Williston is a 4-plex which was opened for occupancy in September 2011. Qualified individuals must meet HOME income guidelines. Tenant rents are based on yearly HOME rent limits. All units have 3 bedrooms, attached two car garages and utility rooms with washer/dryer hook-ups.

Missouri View Heights (8 1-bedroom apartments for individuals with a chronic mental illness who need supportive services)

For additional information regarding Housing contact:

Phone: 701-572-8191
Fax: 701-572-8192

Weatherization

The Weatherization Program is a federally funded program designed to reduce the energy consumption of low-income families. The goal is to make homes safe, comfortable and energy efficient while saving the occupant money. The program serves renters or owners, whether they live in mobile homes, traditional wood framed homes, or apartments.

Furnace and moisture problems, as well as other potentially dangerous situations, can be addressed through the program. A personal assessment of each home and its energy use is completed. Energy saving methods are recommended through the Client Education Program. 

Helping HANDs Funds are used to assist homeowners that are currently not eligible under Weatherization program guidelines. They may be used to install energy saving devices, weatherization measures, and minor housing repairs. Applicants who have large repair items are referred to the Housing Program.

For additional information regarding Weatherization contact:

Phone: 701-572-8191
Fax: 701-572-8192

Prairie Rose Recovery Center

The Prairie Rose Recovery Center provides a range of services designed for adults with a serious mental illness (SMI). Services help individuals to function in the community, achieve individual potential and reduce the risk of hospitalization.

The Prairie Rose Recovery Center is open Monday-Thursday 8:30-5:00, Friday 8:30-4:00, closed Saturday, Sunday and Holidays.

Prairie Rose Recovery Center offers Peer Support Groups Mondays and Wednesdays and also a weekly Recovery Group.

Social & recreational activities (at the center and in the community-bowling, music, trips)

Goal oriented tasks (cooking meals, computer skills, social skills)

Information & referral

Transportation

Early crisis intervention

Noon meals
---
Contact Us!
Southwest Region Serving the following counties: Adams, Billings, Bowman, Dunn, Golden Valley, Hettinger, Slope, & Stark
202 E Villard
Dickinson, ND 58601
Phone: (701) 227-0131
Toll-Free: 1(800) 359-2243
Fax: (701) 227-4750
---
Northwest Region Serving the following counties: Divide, McKenzie, & Williams
120 Washington Avenue
Williston, ND 58801
Phone: (701) 572-8191
Fax: (701) 572-8192